Wearing a blazer may look like a good choice to wear on formal occasions. However, do you know how to wear a casual blazer? If not, you are certainly in the right place.
A classic blazer jacket can be dressed up for a variety of different casual looks, depending upon the occasion. So, if you want to achieve a laid-back yet refined appearance, a blazer can be an ideal choice.
Of course, there are several crucial factors that need to be considered to pull off a flawless blazer look. Thankfully we have got you covered in all those areas with our ultimate guide on how to wear a casual blazer.
So, sit back and follow our advice to rock your casual blazer outfits with maximum style and confidence.
Types Of Men's Casual Blazers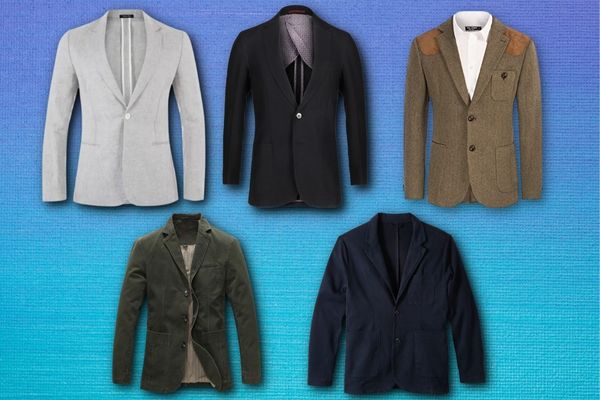 Men's casual blazers come in a variety of fabrics and styles. So, before you go and buy the perfect one to fit your needs, be certain about all the options. Here are all the basic types of men's blazers for you to choose from.
Cotton Blazer
If you are looking for a blazer to complement your casual summer outfits, cotton blazers are the one for you. Cotton blazers are light and airy and rest well on the body, giving out a relaxed yet refined look.
You can find them in various colors but the most sought-after hues are navy, gray, and beige. Whatever color you go with, just be sure to choose the one that complements your body type and skin color.
While these blazers work well with most outfits, t-shirts, chinos, jeans, and sneakers are some of the most popular looks to wear with a cotton blazer.
Wool Blazer
While a wool blazer is not a good choice to wear in summer, it is a perfect fabric for the winter season. However, when buying a knitted wool blazer, always go for a neutral shade such as navy or gray to add some versatility to your winter ensembles.
Also, try on the blazer to be sure of the cut and quality, before spending your fortune on the right piece. Although these blazers complement most winter outfits, wearing them with boots, sneakers, and jeans is an excellent way to dress them down with casual clothing elements.
Linen Blazer
Looking for some lightweight and breezy fabric, linen blazers are all you need to calm the summer heat, without cutting down on style. Out of all the other dress codes, they are more suited for casual and business casual attire.
However, while styling a linen blazer, go for an unstructured style. Try to keep it low-key and avoid wearing heavy footwear, instead go for sandals and sneakers.
Tweed Blazer
Looking for an alternative to a wool blazer? Try styling with a tweed blazer for a change. These heavy fabrics are best suited for winters to protect against the cold weather with your fashion game in check.
Although tweed jackets have a more put-together and sophisticated semi-formal vibe, they surprisingly also work great with casual winter clothes. In order to make this look even more interesting, you can try pairing them with jeans and a shirt or go monochrome for casual yet contemporary aesthetics.
Structured/Unstructured Blazer
When choosing a blazer, you have two options, whether to go for a structured or an unstructured style. Structured designs come with a sharp and clean shape with shoulder paddings, making them an ideal option for formal and semi-formal occasions.
On the contrary, the unstructured styles feature a more minimal look, with no shoulder pads, making them a good option to wear casually.
Men's Casual Blazer Styles
Men's casual blazers come in various different styles. You can either go for a standard blazer, a sports coat, or a suit jacket, depending upon the requirement of the dress code. While it is hard to differentiate between all three, they are different.
So, let's find out how they are actually different.
Sports Blazer
Also called a sports jacket, a sports coat has a similar cut to a traditional blazer. However, they have a more casual and laid-back vibe with an intermediate structure.
In addition, sports coats are meant to be worn with contrasting neutral trousers and are often stitched in thick and warm fabrics like tweed and flannel, with a loose fit, to accommodate more layers if needed. Which makes them a good option to wear outdoors in winter or during physical activities like shooting and sports.
Suit Jacket
The basic point of difference between a blazer and a suit jacket is that the suit jacket is expected to be styled with matching trousers, making them a more appropriate option for formal and semi-formal events.
Although they are not normally thought of as a perfect option for casual wear, you can make them work with your casual ensembles, only by breaking up and styling them with a contrasting pair of trousers, casual jeans, a t-shirt, and sneakers.
Do's And Don'ts Of Styling A Blazer
If you are an amateur and do not know anything about how to wear a casual blazer, these tricks and styling tips will help you in the process of achieving a flawless casual blazer look.
The Correct Size
The right fit of your blazer can make or break your whole look. The most important thing to check about the blazer is the shoulder's fit. Any Creases between the shoulder and top seam mean you need to go a size down or up to find the perfect one for you.
Tuck The Shirt
While putting on an untucked shirt may look obsolete with formal or semi-formal attire, it surprisingly looks great with casual blazer outfits.
Whether you go for casual shorts or smart casual outfits jeans, a blazer, and an untucked t-shirt are a sure-shot formula for a more relaxed and laid-back vibe.
The Right Contrast
For wearing a blazer casually, the right contrast is crucial. While suit jackets are meant to be worn with matching pants, casual blazer outfits are expected to be styled with contrasting color pants such as neutral chinos, denim, and shorts.
Dark blue, gray, and black are some appropriate pants colors to wear with a casual blazer.
Men's Blazer Outfits
A blazer may look like a simple clothing accessory but figuring out what to wear with a blazer is sometimes an overwhelming task. In order to cut down the labor for you, here are some casual men's blazer outfits to pull off a simple and laid-back look.
Blazer With Jeans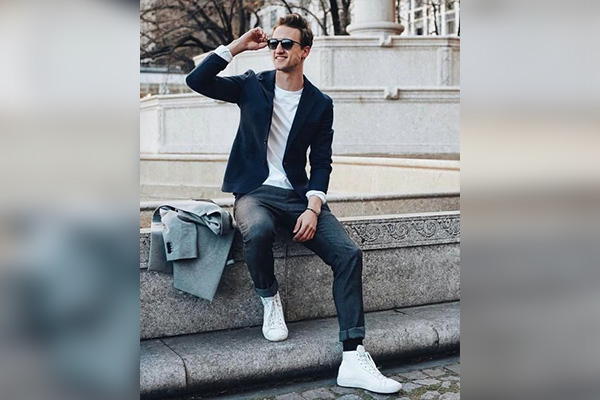 If you are aiming for a casual look with a blazer, pairing jeans with blazers is an excellent outfit for you. This look is perfect for all your smart casual business meetings, dinner dates, and semi-formal cocktail parties.
Although jeans go well with most colors, opting for a black casual blazer with black or blue denim is a classic contemporary look for a put-together casual look.
Blazer WIth Chinos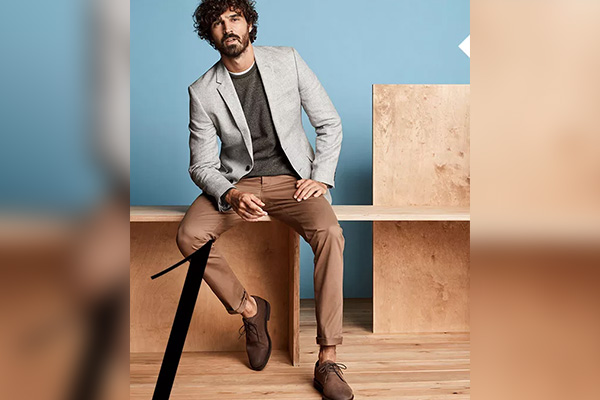 Men's casual blazer outfit with chinos is an ideal combination for a polished yet relaxed look. For a more laid-back vibe, try styling your chinos with a basic t-shirt instead of a button-down dress shirt. 
For the choice of footwear, go for sneakers or lace-up boots. Try pairing a navy blue blazer with white chinos to achieve a dapper look with a nautical vibe.
Blazer With Shorts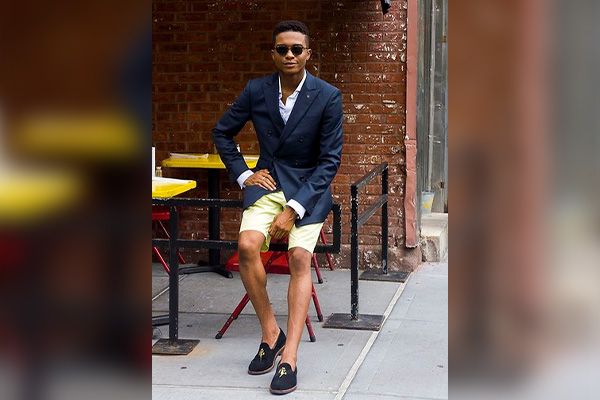 Do you want to achieve a fun look while wearing blazers casually? Try teaming them up with a pair of shorts. This effortlessly casual and playful look is perfect for all your summer hangouts at the beach or resort vacations.
In order to wear this look with maximum style, try pairing your blazer with a matching pair of shorts and add a pop of color by wearing a contrasting t-shirt underneath. Lastly, finish off the look with some casual shoes such as sandals, boat shoes, and sneakers.
Blazer With T-shirts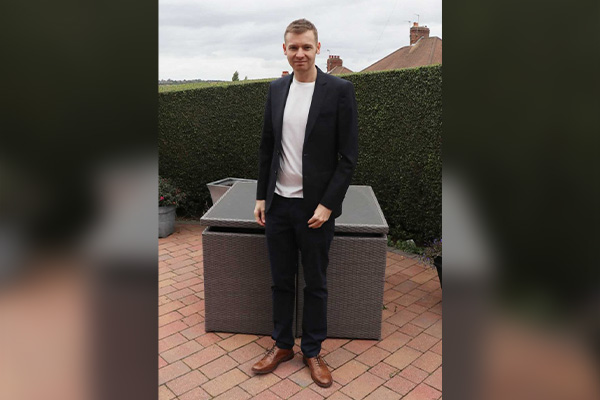 T-shirts, if worn correctly can look seriously stylish with blazers. In order to pull off this look with maximum style, make sure the fitting and size are correct. Moreover, try pairing them with slim-fit jeans or chinos to impart a sophisticated casual vibe.
For the choice of colors, opt for basic neutral shades such as black, navy blue, and white.
Blazer With Polo Shirts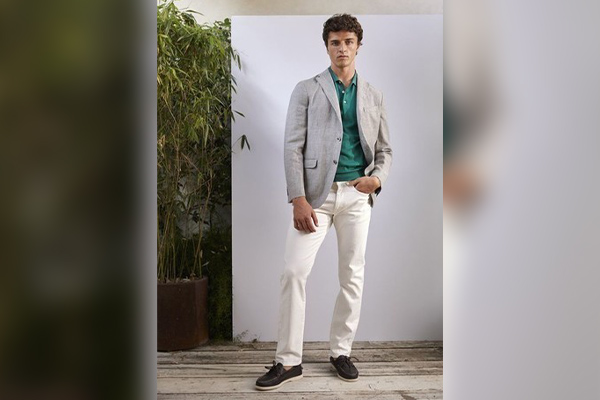 A polo shirt is another effortlessly stylish option to wear with casual blazer outfits. While the collared polo shirt is slightly more sophisticated as compared to the usual t-shirt, it still is a good choice to wear with a blazer for a laid-back and relaxed vibe.
In addition, a polo style adds a refined athleisure touch to your casual blazer outfit while keeping your casual fashion game in check. Just add a pair of sneakers to make things even more trendy.
FAQs – How to Wear A Casual Blazer?
What is the most versatile blazer color?
Out of all the other colors, gray and dark blue blazers are the most versatile pieces to wear with casual outfits. You can wear them with blue jeans, khakis, and black chinos for a laid-back and relaxed look.
What hairstyle suits a blazer?
While blazer outfits complement most men's hairstyles, crew cut, quiff, and side parting hairstyles are some of the best ones to wear with casual blazer outfits.
Do blazers make you look older?
No blazers do not make you look older. However, wearing an ill-fitting or loose blazer may make you look outdated and aged. 
Conclusion
Blazers are an absolute men's wardrobe staple. However, not many of us know how to wear a casual blazer. Some of the most popular types of men's casual blazers include cotton, linen, tweed, and wool blazers.
In order to achieve a casual look with a blazer, you can try opting for a t-shirt, jeans, chinos, shorts, and a polo shirt. For the choice of footwear to wear with casual blazer outfits go for sneakers, boat shoes, and sandals.